This forum has a built in friend and foe system for your convinience. Friends are members that will be listed in your profile allowing your to locate them easier (say, to send a PM) and will also tell you if they are online at the same time you are. Foes are people that you have ignored, useful when someone is harassing you or whose posts you can't stand to read, by adding them to the foe lists you will no longer be able to see their posts (just a notice).
Friend requests must be accepted before they are recorded in your profile as a friend.
Remember that for every friend you get its an extra 5 Credits you recieve. However people caught abusing this system only to gain credits will be warned and credits gained in the fashion will be taken away. If you suspect someone of sending requests only for credits please contact me or a mod through a PM.
So now the technical part, how do you add or remove people from either list. Follow these easy steps and you are all set:
First off go to your profile using the "Profile" option on the top menu bar: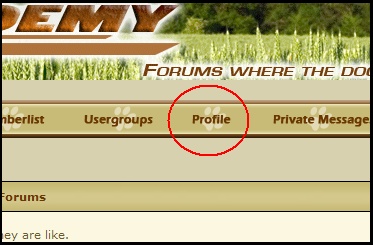 Next, locate the "Friends and Foes" link in your profile in the upper right hand corner: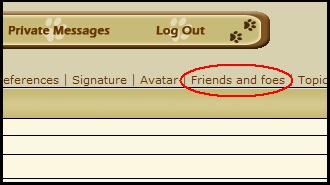 From here you'll be able to do many things such as accepting requests, sending friends requests, adding people to foes lists, and seeing what requests you've sent.
To add someone to friends/foe lists use the options you see for doing see, the look like this:
Friend:
Foe:

If you can't add them this way because you forgot the complete name or are spelling it wrong you can go to the person's profile and add them using a link above their profile picture (upper right hand corner):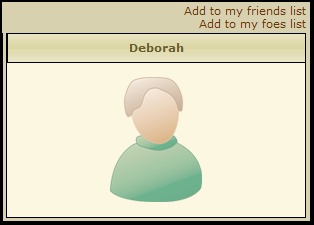 To remove someone from your friends lists or your foes lists you have to click the "-" sign you see next to their name:

NOTE: When you recieve a friends requests you won't recieve a notification, so every now and then check your friends/foe page to see if you have any pending requests. To accept them press the "+" next to their name and the "-" to reject the request. It might be a good idea to let the other person know that you are sending a requests so that they can accept it too, but thats up to you.
_________________
For more information on your furry companion visit K9Domain!
http://k9domain.web.officelive.com/default.aspx