I can honestly say that this has been one of the best books about training that I've read for a while! For those of you that don't know, Karen Pryor is the leading advocate for clicker training and completely focuses on aversive-free training.
In this book she talks about her experiences as a trainer and explains a bit about the terminolgy that surrounds operant training techniques. The book if filled with examples of various animals (not only dogs) of how one can shape the behavior of an animal to do amazing things. She explains why punishment and "traditional" training methods don't work as well as operant conditioning and aversive free methods do. More towards the end of the book there is a chapter about
why
clicker training is so effective, fast, long lasting and fun. With the help of some scientists and researches she explains how using the clicker as a secondary reinforcer works in the brain to get the results it does.
For those that are skeptical about clicker training or have some questions about it, there's a whole chapter dedicated to answering some of the most common questions that people have about it.
Now don't be surprised though, even though the front cover has a dog the book isn't solely about dogs. There are shaping experiences in here involving horses, dolphins, fishes, dogs, cats, hermit crabs, and even people (with people its not called clicker training its called TAGteaching).
If terms such as primary reinforcer, secondary reinforcer, discrimantory stimulus, conditioned stimulus, operant condition, poisoned cue, or conditioned fear stimulus fly over your head and absolutely confuse you, no worries. Not only are the explanations in the book simple and easy to understand but there is a glossary you can refer to in the back.

Drawbacks: These are just my opinions, even though I honestly think that the book was great the one thing that bugged me was that the author wasn't too open minded when it came to other training methods such as luring, desensitization, habituation, etc.
P.S. This is a new book by the way, the one I read at least was published only last year (09)!
Here's a link to Amazon:
http://www.amazon.com/Reaching-Animal-Mind-Clicker-Training/dp/0743297768
A Picture: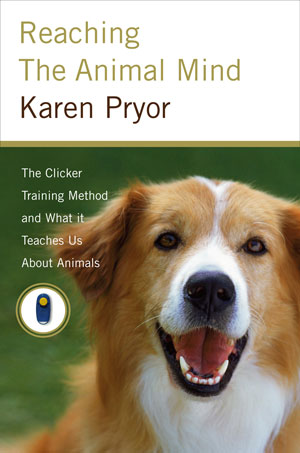 And a luckily found a place where you guys can read parts from the book:
http://books.google.com/books?id=FSN_VDlw79wC&printsec=frontcover&dq=Reaching+the+animal+mind&source=bl&ots=_X6n9EpPSj&sig=ThAvtnEaO-TGzSc2cEkfLtqOrbs&hl=en&ei=tZmRS87VEY2IswPSjaj8Aw&sa=X&oi=book_result&ct=result&resnum=4&ved=0CBkQ6AEwAw#v=onepage&q=&f=false
_________________
For more information on your furry companion visit K9Domain!
http://k9domain.web.officelive.com/default.aspx