I have just finished reading this book from cover to cover and am about to start all over again....this time i shall be taking notes!
Gwen introduces us to her thought processes modestly:- "I have made an attempt not to be anthromorphic and base my comments on what a human would thinkn the same situation. However,as a human how I think will have an influence on how I empathise with others from a different species." She goes on to say "So frequently I see the results of misunderstandings between dogs and people. Dogs are blamed for all sorts of things they havent done or werent thinking because their owners misread their body language."
The book is divided into easy to read, well laid out chapters covering the sociability of dogs, how life in a heirarchy can change in an instant, hpw the natural cycle of scent, trail, watch, stalk, chase, grab, bite, shake, kill, consume is prevalent in all our domestic pets and how we can control these characteristics to our own advantage, how the urge to reproduce can present itself in some really unwanted behaviour, and last but not least how dogs interact with humans.
The whole book is a fascinating insight into how dogs minds work and is interspersed with "Did you know" blogs. As I was reading I was thinking, along with the rest of you no doubt, that a lot of what is written is common sense. But, having thought some more on the subject, how often do we rely on common sense when we meet a strange dog for instance. I know I can be the worst offender for fussing a dog who jumps up! or bends down to cuddle the ever so cute little fluff ball. (shame on me!).
Did you know that:-
fearful, unsocialised dogs find it difficult to read body language signals from other dogs....thats why they end up in fights?
a waggy tail means the dog is excited....it doesnt always mean he is friendly?
dogs find it easier to understand signals and guestures than words?
good pack leaders do not constantly bully or harrass to stay in control - they are confident in their own leadership abilities by not always giving in to the demands of the lower ranks?
the heirachy in a wild pack is constantly changing as the lower ranked dogs move up in stature - so there is no reason why a human cant take back control from an aggressive dog?
more people are bitten on the hands than anywhere else?
when greeting a dog you should keep your eye and hand contact to a minimum to reduce their fear?
The pictures of the dogs in this book are absolutely stunning and the way it is written explains clearly and precisely what is going on and how we should deal with it. I have learnt a lot from this book and am actually fine tuning the way I handle Lucy because of the new knowledge I now have. Do get yourselves a copy either from Amazon or the Library.
Link:
http://www.amazon.com/What-Dog-Thinking-Essential-Understanding/dp/1571458700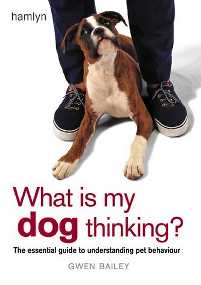 Gilly