How well you do on the forum will be gauged by your reputation points. There are two ways that your reputation points are affected, votes and thanks.
Votes:
A vote can be given by clicking on the "+" or "-" that appears in each person's posts:

Your reputation appears both in your profile and your posts: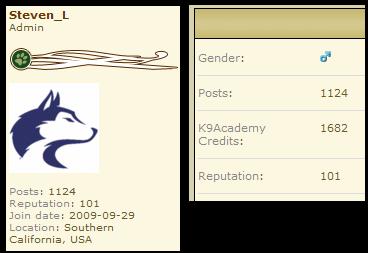 A positive vote will give a person +2 votes (generally) and a negative one will take away a point.
Thanks!
The "Thanks!" button is only visible to those that actually started the thread. It will look something like this:

If you are the creator of a thread and someone's post was really helpful to you then you can click on the thanks button to give that person an extra 5 Reputation points, you can only give thanks to one person though, make sure you choose carefully.
Once pressed the button will grey out and the post will turn a slight teal color:

Note: Remember this is a system set to encourage high quality posts, its not something to use to get back at people or to make your friends look good, in other words one must be objective. Be sure to read the rules regarding reputation and credits:
http://k9academy.forumotion.com/rules-tutorials-f3/k9academy-credits-reputation-t85.htm
_________________
For more information on your furry companion visit K9Domain!
http://k9domain.web.officelive.com/default.aspx