This forum works a bit different than your average dog forum. New topics and posts show up differently than posts you've already seen or answered in. The following tutorial should give you an idea of how to identify new threads and topics using different tools.
Looking at the difference in Icons:
From the main page you'll notice paws to the side of each forum, those paws will tell you if there are new threads or posts in that specific forum to look at.
Faded paws mean no new posts/threads, and the colored paws mean there are new posts/threads:
When you click on one of the forums (for instance the Dog Health forum) you will see inside that to the left there are red and blue pages, once again faded pages mean that there isn't any new posts and the colored pages mean that there are new posts:
(Red pages mean that it has more than 10 posts, and the smaller brown pages with arrows mean that you've posted in that thread before)
Using your Profile:
You can also access threads that you've answered in the past through your profile. This way you can see if anyone has answered in threads you've participated in.
First go to your profile: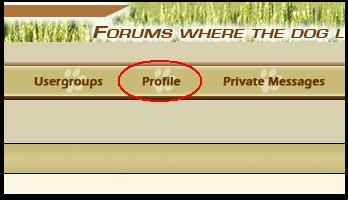 Next, find the option that says "Topic being watched":

This should give you a list of topics, from here you can tell which ones have been answered, simply look at the person that posted last, if your name appears it means no one has answered that thread, if someone else's name appears you know someone has posted a reply to the same thread.

Use the Options on the Home Page:
You'll notice that on the home page, off to the right there are three options:
View posts since last visit
View your posts
View unanswered posts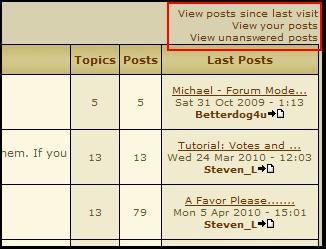 View Posts Since Last Visit:
This option will display all posts that you haven't yet seen since your last log in, however if you notice that all paws on the main page are faded then the most likely thing you'll see is a message saying there are no new posts.
View Your Posts:
This almost works like the "Topics Being Watched" option available through your profile. It'll list only threads that you've participated in.
View Unanswered Posts:
This will actually show you threads that have 0 replies, old or new. If you are one of the members that like to reply first you will probably be using this option often.
If you are done looking through the threads that interest you and are about to log off, but notice that not all the paws in the forum page are faded, you can click "Mark all forums as Read" to make everything faded. This helps so that next time you log in, you only see new threads and not topics that you weren't interested the last time you logged in. You find this option on the bottom of the homepage:
_________________
For more information on your furry companion visit K9Domain!
http://k9domain.web.officelive.com/default.aspx